360° Environment Maps Pro for Element 3D: Building Interiors Pack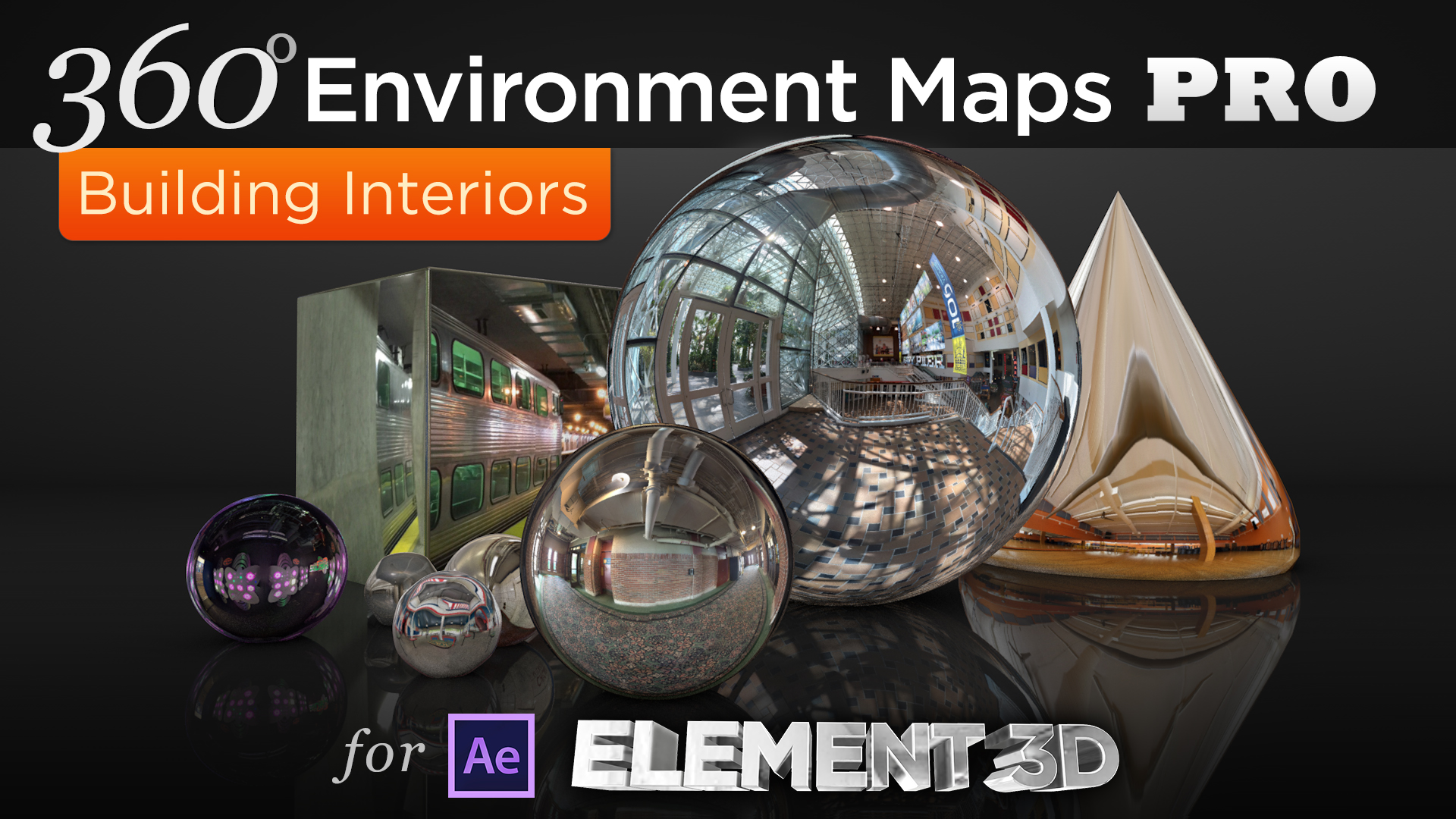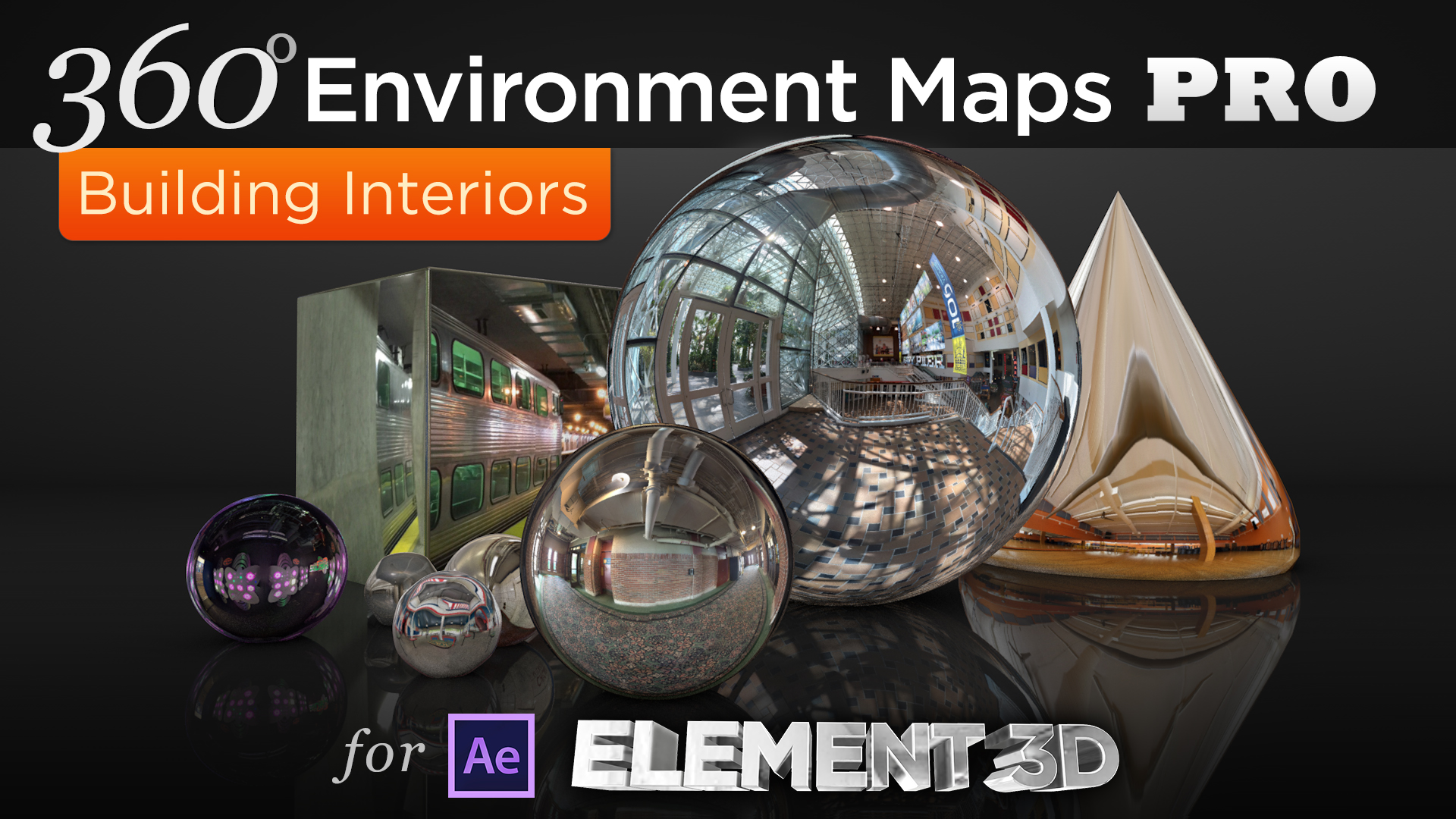 360° Environment Maps Pro for Element 3D: Building Interiors Pack
With 360° Environment Maps Pro for Element 3D: Building Interiors Pack, get 8K Environment Maps to use in your After Effects projects. By using Environment Maps Pro, you can easily add photo lighting and reflections to your 3D scenes.

This pack comes with 35 high resolution environment maps available in 8K, 4K, and 2K resolution that install directly into the Element 3D plug-in, right alongside existing E3D environments and materials.
Hi-Res 360° Environments for Element 3D
This pack features a variety of indoor and building-related environments for your Element 3D projects, all which install directly into the Element 3D plug-in. Building Interiors features environments including lofts, restaurants, offices, museums, subway stations, lounges, tunnels, gyms, yoga studios, and more. This pack is perfect for creating lighting and reflections that need to match indoor looks, with a wide variety of color palettes and looks.
Want to save over 25%? Check out the ULTRA Bundle for huge savings! Or save 20% with the Super City two-pack bundle here!
Get a FREE test run of this product! Head to Facebook.com/MotionTutorials, like the page, and send the message "please send me Environment Maps Pro Test Pack!" to get a FREE downloadable test pack.
Add to your Element 3D Presets
Each pack integrates directly into the Element 3D plug-in, so you can quickly pull assets into your 3D scenes to add new looks to your After Effects projects.
With the Building Interiors Pack, you'll add a huge amount of content to your Element 3D presets for all sorts of looks, from train stations to gyms, lounges, yoga studios, basketball courts, and more.
Compatible with all versions of Element 3D
Whether you're on the new version of Element 3D, V2, or sticking with V1, all packs work with all versions of Element 3D, and versions of After Effects as far back as CS5. No matter which version of Element 3D you are working with, 360° Environment Maps Pro will work for you.
Want a quick overview of this product? Check out the video below.
What happens after I buy?
You'll immediately receive an email containing a PDF with instructions on how to download the pack, and a download link. The 360° Environment Map PRO Pack is downloaded as a 1.5GB .zip file, so it is best to be connected to a wifi network.

Each 360° Environment Map PRO Pack includes:
• 35 Environment Maps in 8K, 4K, and 2K resolution
• HD example renders of each environment map
• Video instructions on how to install
• Product license & readme documents

The link will be active for 72 hours after purchasing. If you have any questions or issues while downloading, or if your your download password has expired, please contact Sean@SJanimate.com for assistance.

note: This pack is a 1GB download, so you may want to make sure you are connected to wifi while downloading.
Compatibility:
• Element 3D V1 or V2
• After Effects CS 5, CS 6, CC, CC 2014, & CC 2015
• Windows 7 SP1 & up
• Mac 10.7 & up